http://ap.google.com/article/A…
Activist-singer Miriam Makeba dies in Italy at 76
ROME (AP) – Miriam Makeba, the South African folk singer and anti-apartheid activist fondly known as "Mama Africa," died early Monday in southern Italy after performing at a concert against organized crime, hospital officials said. She was 76.
The emergency room of the Pineta Grande Clinic, a private facility in Castel Volturno, near Naples, confirmed Italian news reports that the singer had died after being brought there.

The ANSA news agency reported that Makeba apparently suffered a heart attack just at the end of the concert, where she had sung for about 30 minutes to show solidarity for Italian journalist Roberto Saviano, who received death threats after writing a book about the Camorra, the Naples-area crime syndicate.

The news of Makeba's death caused shock and grief in South Africa.
Her official website:

Miriam Makeba
Miriam Zenzi Makeba was born in Johannesburg in 1932. Her mother was a Swazi sangoma and her father, who died when she was six, was a Xhosa. As a child, she sang at the Kilmerton Training Institute in Pretoria, which she attended for eight years.

Makeba's full name is Zenzile Makeba Qgwashu Nguvama Yiketheli Nxgowa Bantana Balomzi Xa Ufun Ubajabulisa Ubaphekeli Mbiza Yotshwala Sithi Xa Saku Qgiba Ukutja Sithathe Izitsha Sizi Khabe Singama Lawu Singama Qgwashu Singama Nqamla Nqgithi. In keeping with tradition, her full name contains the first names of her male ancestors followed by a one- or two-word description of their character.[1]
http://en.wikipedia.org/wiki/M…
I grew up to the music of Miriam Makeba. She was not just a singer, she was an activist for the world, and particularly for South Africa.

South African diva Miriam Makeba is well known throughout the world known as the Mama Africa and the Empress of African Song. Born in 1932 in South Afica, she first came to the public's attention as a featured vocalist with the Manhattan Brothers in 1954. She soon left to record with her all-woman group the Skylarks while touring Southern Africa with Alf Herberts' African Jazz and Variety, an 18 month tour that launched the careers of many African artists.

In 1959, Makeba's incredible voice help win her the role of the female lead in the show, King Kong, a Broadway-inspired South African musical. She then went to conquer America where she sang at President Kennedy's birthday and worked in New York with Harry Belafonte creating such classics as "The Click Song" and "Pata Pata".

In 1963 she testified about apartheid before the United Nations, as a result the South African government revoked her citizship and right of return. She stayed in the U.S. and married Stokely Carmichael, a Black Panther leader. That began her exile from her South African homeland. After harassment by U.S. authorities she fled to exile in Guinea.

Makeba returned to world prominence when she performed with Paul Simon on the Graceland tour. Finally in the late 1980's she returned to her homeland as a free South African.
http://africanmusic.org/artist…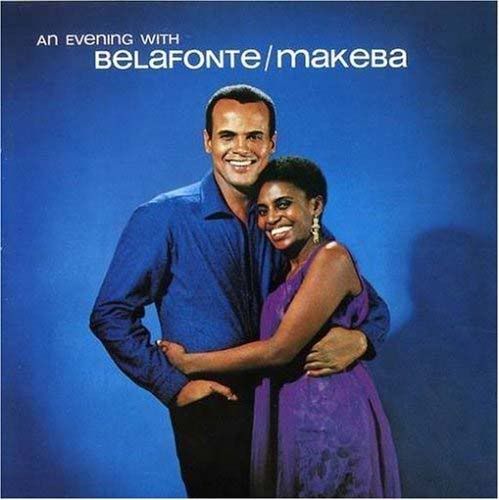 Makeba's life has been consistently marked by struggle. As the daughter of a sangoma, a mystical traditional healer of the Xhosa tribe, she spent six months of her birth year in jail with her mother. Gifted with a dynamic vocal tone, Makeba recorded her debut single, "Lakutshona Llange," as a member of the Manhattan Brothers in 1953. Although she left to form an all-female group named the Skylarks in 1958, she reunited with members of the Manhattan Brothers when she accepted the lead female role in a musical version of King Kong, which told the tragic tale of Black African boxer, Ezekiel "King Kong" Dlamani, in 1959. The same year, she began an 18 month tour of South Africa with Alf Herbert's musical extravaganza, African Jazz And Variety, and made an appearance in a documentary film, Come Back Africa. These successes led to invitations to perform in Europe and the United States.

Makeba was embraced by the African-American community. "Pata Pata," Makeba's signature tune was written by Dorothy Masuka and recorded in South Africa in 1956 before eventually becoming a major hit in the U.S. in 1967. In late-1959, she performed for four weeks at the Village Vanguard in New York. She later made a guest appearance during Harry Belafonte's ground-breaking concerts at Carnegie Hall. A double-album of the event, released in 1960, received a Grammy award. Makeba has continued to periodically renew her collaboration with Belafonte, releasing an album in 1972 titled Miriam Makeba and Harry Belafonte. Makeba then made a special guest appearance at the Harry Belafonte Tribute at Madison Square Garden in 1997.
http://www.answers.com/topic/m…
I remember seeing her at the Village Gate in NY years ago, right after Harry brought her to this country. She was married to Hugh Masekela at the time. Her voice was stunning. She brought the audience to tears as she sang of her homeland.
She was married to singer Hugh Masekela and Trinidadian civil rights activist and Black Panthers leader Stokely Carmichael.

When her only daughter, Bongi Makeba, died in 1985, she moved to Brussels.

Anti-apartheid icon Nelson Mandela persuaded her to return to South Africa in 1990.

She was always optimistic about post-apartheid South Africa, even though she acknowledged that it came with its own problems.

"We have only had 11 years of democracy but we are moving, we are moving forward faster than many countries who have been independent a long, long time before. We all have to do it together, all of us, found ourselves this country regardless we are black, white or whatever," she said in the interview with AFP.

Asked who the next Makeba would be, she replied: "No, nobody can replace me as I can't replace anyone else," said the singer, who added that she wanted to leave a memory of, simply, a "very good old lady".
http://www.thetimes.co.za/Ente…
In recent years she has worked as a goodwill ambassador for the Food and Agriculture Organization (FAO) of the United Nations

Miriam Makeba visits rape survivors in Congo (DR)

FAO Goodwill Ambassador says support for women crucial to nation's improvement amid fragile peace

13 March, 2008, Kinshasa, Democratic Republic of the Congo – Singer and activist Miriam Makeba says women survivors of sexual violence in the Democratic Republic of the Congo face a "triple tragedy" of physical, psychological and social damage, undermining the country's attempts to improve living conditions.

Makeba, who is on a four-day visit to Kinshasa in her role as FAO Goodwill Ambassador, is planning to tour small farming projects designed to help rape survivors feed their families and increase self-reliance. The women have received FAO-donated seeds, tools and agricultural training. Makeba is to be accompanied by the DRC's Minister of Gender, Family and Child Welfare, Philomène Omatuku.

Makeba, who won the Dag Hammarskjöld Prize for Peace in 1986, called the systematic rape of women in recent years the "most horrifying feature of the complex emergency" in DRC, Africa's third-largest country.

"Women guarantee the survival of 80 percent of the households in DRC. Yet despite their crucial role for the well-being of the family, they are frequently victims to rape and sexual violence," Makeba said. "In the province of North Kivu alone, 27 000 cases of sex violence were recorded in 2006."
She died as she lived. Fighting injustice.
Speech at the United Nations: