I watched last night's Vice-Presidential debate thinking that maybe, just maybe, we'd get a glimpse of the real Sarah Palin. Is she really the numbskull we saw in those Katie Couric interviews?
After taking the night to digest it all, my opinion is that she is a numbskull, much in the same way that George W. Bush is. What did we learn about Gov. Palin based on her answers (or lack thereof)?
We learned that she can lie, memorize talking points, and regurgitate them with a faux-folksy glee:
Now, what I've done as a governor and as a mayor is (inaudible) I've had that track record of reform. And I've joined this team that is a team of mavericks with John McCain, also, with his track record of reform, where we're known for putting partisan politics aside to just get the job done.

Now, Barack Obama, of course, he's pretty much only voted along his party lines. In fact, 96 percent of his votes have been solely along party line, not having that proof for the American people to know that his commitment, too, is, you know, put the partisanship, put the special interests aside, and get down to getting business done for the people of America.
Having trouble following that? Yeah, me too. How about Sarah Palin's track record of reform:
Sarah Palin has been touting herself as fiscal watchdog throughout her political career. But Palin's tenure as mayor of Wasilla, Alaska, was characterized by waste, cronyism and incompetence, according to government officials in the Matanuska Valley, where she began her fairy-tale political rise.

"Executive abilities? She doesn't have any," said former Wasilla City Council member Nick Carney, who selected and groomed Palin for her first political race in 1992 and served with her after her election to the City Council.

Four years later, the ambitious Palin won the Wasilla mayor's office – after scorching the "tax and spend mentality" of her incumbent opponent. But Carney, Palin's estranged former mentor, and others in city hall were astounded when they found out about a lavish expenditure of Palin's own after her 1996 election. According to Carney, the newly elected mayor spent more than $50,000 in city funds to redecorate her office, without the council's authorization.

"I thought it was an outrageous expense, especially for someone who had run as a budget cutter," said Carney. "It was also illegal, because Sarah had not received the council's approval."
Oh, but she said "Thanks, but no thanks". Wink. She stands up to those doggone special interests. You betcha! Pretty fuckin' Mavericky, right? Conclusion: Bullshit. We all know all about her support for "the Bridge to Nowhere", her ties to Big Oil lobbyists, her love of earmarks, and her seriously shady ethics. Sarah Palin is no reformer.
Wanna know what really pissed me off? It was that "white flag of surrender" horseshit.
No, in fact, when we talk about the Bush administration, there's a time, too, when Americans are going to say, "Enough is enough with your ticket," on constantly looking backwards, and pointing fingers, and doing the blame game.

There have been huge blunders in the war. There have been huge blunders throughout this administration, as there are with every administration.

But for a ticket that wants to talk about change and looking into the future, there's just too much finger-pointing backwards to ever make us believe that that's where you're going.

Pardon my French, Sarah, but fuck you. What the above quote fails to capture is the flippant and dismissive tone with which these words were delivered. Let's remind ourselves what the ramifications of some of these "blunders" are; the ones we ought not to concern ourselves with looking back on.
To date, 4,177 Americans have given their lives in Iraq. That's almost half of the 2007 estimated population of Wasilla, Alaska. I read somewhere that the average age of these casualties is about 30 years of age, which means there are a shitload of widows, orphans, and grieving parents back here in the Land of Hockey Moms. Let's just put that behind us, right Sarah?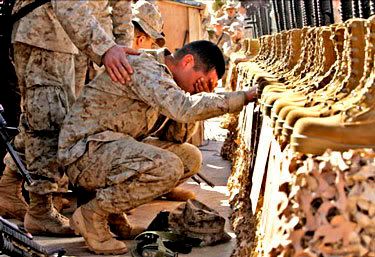 And then there are all those wounded. About 30,680 of them. Missing limbs, traumatic brain injury. I'll be damned if that isn't almost exactly the same as the 2007 population of Juneau, Alaska. No biggie, right Sarah? Just a blunder. All administrations have blunders. Sheesh.
Let's not worry about "shell shock" and inadequate Veteran's benefits. Best to put that behind us. You betcha, Sarah, just another blunder to sweep under the rug.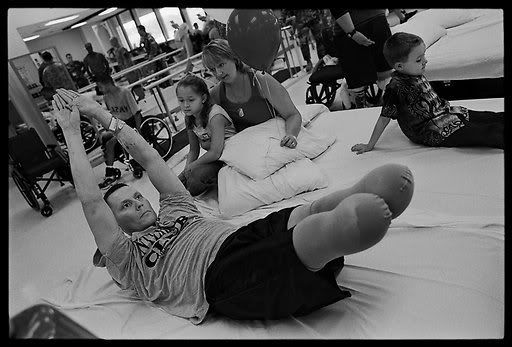 Some 300,000 U.S. troops are suffering from major depression or post traumatic stress from serving in the wars in Iraq and Afghanistan, and 320,000 received brain injuries, a new study estimates.

Only about half have sought treatment, said the study released Thursday by the RAND Corporation.

"There is a major health crisis facing those men and women who have served our nation in Iraq and Afghanistan," said Terri Tanielian, the project's co-leader and a researcher at the nonprofit RAND.

"Unless they receive appropriate and effective care for these mental health conditions, there will be long-term consequences for them and for the nation," she said in an interview with The Associated Press.
300,000? By golly, that's almost half the entire population of Alaska! No worries though, I'm sure that $5,000 tax credit you and John McCain have proposed will help all those Veterans out.
Three hundred thousand. Wow. That's a big number, but here's an even bigger one: 1.2 million.
Nobody knows exactly how many lives the Iraq war has claimed. But even more astounding is that few mainstream journalists have mentioned the issue or cited the top estimate: 1.2 million.

During August and September 2007, Opinion Research Business, a British polling group, surveyed 2,414 adults in 15 of 18 Iraqi provinces and found that more than 20 percent had experienced at least one war-related death since March 2003. Using common sociological study methods, they determined that as many as 1.2 million people had been killed since the war began.

The U.S. military, claiming it keeps no count, still employs civilian death data as a marker of progress. For example, in a September 10, 2007, report to Congress, Gen. David Petraeus said, "Civilian deaths of all categories, less natural causes, have also declined considerably, by over 45 percent Iraq-wide since the height of the sectarian violence in December."

Whose number was he using? Estimates have ranged wildly, and are based on a variety of sources, including hospital, morgue and media reports, as well as in-person surveys.

Men. Women. Children. Families. Let's just look forward, right Sarah. Keep on keepin' on! No white flag of surrender for us. We want victory and honor, despite the fact we have yet to define the former and tarnished our reputation for the latter.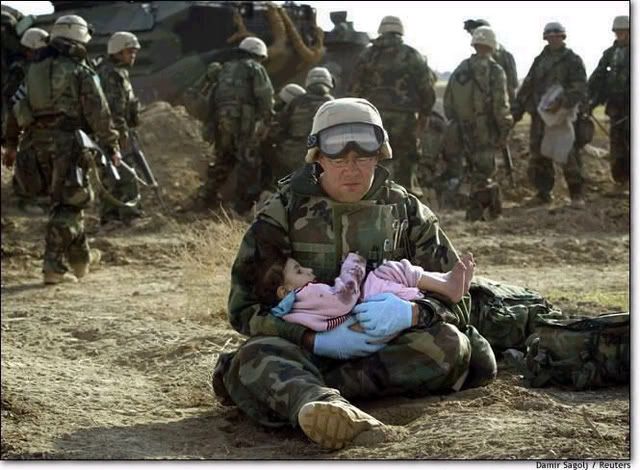 Did Sarah get anything right?
One thing that Americans do at this time, also, though, is let's commit ourselves just every day American people, Joe Six Pack, hockey moms across the nation, I think we need to band together and say never again.
Finally. Never again should we allow the failed policies of George Bush and Dick Cheney a place in the governance of our nation. Gone one, Sarah, good one. Puttin' the 'ick' in Maverick.