Hello, I know a lot of people here at MM, but maybe not everyone, so I should introduce myself.Here's a picture of me last fall at the AIDS Walk, with the Director od AIDS Services of Austin (who is movie star handsome) and a gorgeous sash they made me for having done the AIDS Walk every one of the 25 years it has been in existence: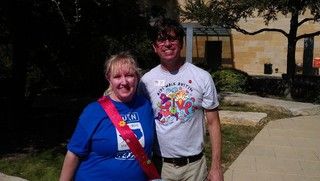 I live in Austin & besides progressive politics, the most important thing in the world to me is the AIDS Walk that is in October & the Hill Country Ride for AIDS, in April. The Ride is really my love & my heart. Because it takes training to get ready for, you get to know people better & I have come to know many people involved with it, including many people who are HIV+. Some of the people I love best in this world – people who have done so much good I can't even tell you – are HIV+ & I want them to have the care they need. Even more than that, I want total strangers, who may not have done great things, to have the care they need. They need more care, the people who don't have the support networks. So that's why I work so hard to raise money for this cause, so everyone can get the care they need.
This April, I'll be doing the Hill Country Ride for AIDS once again. The Ride is a beautiful, magical, wonderful event. If you are in the Austin area, I highly recommend participating. There are ride distances varying from 11 to 100 miles, and this year there is a train run/walk, also – with 5K, 10K & half-marathon options. It is super family-friendly, with lots of stuff for kids to do. and the food — cyclists know their food & this event has really amazing food. If you can't participate, maybe you could donate — here's my the Hill Country Ride for AIDS page. If you want to participate, when you sign up, please join Team RunTex, as I'm the captain & I need team members! (any MM people in Central Texas — free training groups for riding or running, on Saturdays & Sundays, and free yoga, too!)
Today I wanted to tell y'all what your donations do.