Today both the US and Britain closed their embassies in Yemen. In the wake of Eunuch the Crotch Bomber's failed attempt to blow up Delta flight 253 on Christmas Day – a journey that for him began when he went to Yemen to "learn Islam", as he told his father – an increasing amount of attention is being paid to the almost-failed state.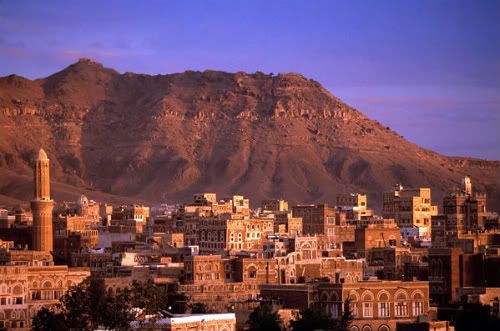 A little bit of information about Yemen, from the Great God of Wiki:
Yemen is a country of children and poverty"
Between 2000 and 2006, 17.5% of the population lived on less than US$ 1.25 per day.
The population of Yemen was about 28 million according to July 2005 estimates, with 46% of the population being under 15 years old.

Yemen has one of the world's highest birth rates; the average Yemeni woman bears six children. Although this is similar to the rate in Somalia to the south, it is roughly twice as high as that of Saudi Arabia and nearly three times as high as those in the more modernized Persian Gulf Arab states. Yemen's population is increasing by 700,000 every year.
Having very little oil – which is expected to run out completely soon – Yemen is the poorest of Arab nations. It is hoped that Liquified Natural Gas will soon begin bringing some stability to the economy, but stability is that last thing that those using the country as a seat of radicalization want so don't be surprised to see attempts to disrupt that.
Yemen is dealing with a civil war in the north and an insurgency in the south at the moment, contributing to the country's instability. Close ties with Somali bring both the risk born of being an open port for Somali criminalism as well as the benefit of influence from relatively stable Djibouti, which is enjoying rapid economic growth.
US General Patreus met with Yemen's President in Yemen on January 2:
(CNN) — Gen. David Petraeus, head of the U.S. Central Command, met with Yemeni President Ali Abdullah Saleh on Saturday in Yemen, according to a senior U.S. government source.

During the meeting with Petraeus, Saleh expressed his appreciation for the United States' help in combating extremists, the source said.

Saleh also offered more support for U.S. counterterrorism strikes and said he would continue providing assistance for the U.S. investigation into the attempted bombing of a Northwest Airlines flight on December 25.

The official said that Petraeus carried several messages and "various items" of information from Obama to Saleh.
Yemen stands on the brink looking in both directions – towards economic and political stability on one side and failed-state status in the other. Which way the battle of wills (and munitions) between the two sides of external and internal actors ends up flowing this year will, in the view of this observer, have a great deal of impact on matters here in the US and many other places around the region and the world.
I wish Yemen the best of luck.
They'll need it.