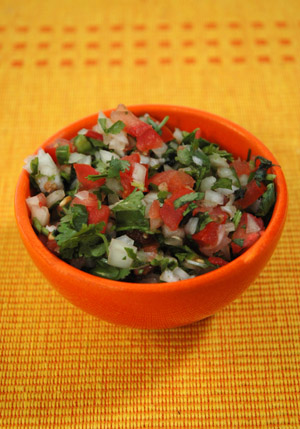 PICO DE GALLO

2-3 ripe tomatoes

1/2 Large white onion, diced

3 fresh, medium jalapenos, seeded and diced

1 tablespoon freshly chopped cilantro

Salt, to taste
Pico de gallo (Spanish for "rooster's beak") is an uncooked salsa
In Mexican cuisine, Pico de gallo is a fresh uncooked salsa made from chopped tomato, onion, and sometimes chiles (typically jalapeños or serranos). Pico de gallo is Spanish for "rooster's beak", a name it picked up because if you eat pico de gallo the way it was meant to be eaten- by itself, using only your thumb and index finger- the grasping motion used to pick it up resembles a rooster's pecking beak. To make this right, you need the freshest vegetables you can get your hands on, and you need to make sure to cut pretty good-sized chunks, so they'll stay on your chips, scrambled eggs, or whatever else you want to put 'em on. And if you want to keep 'em from getting too runny, make sure you drain some of the juice from the tomatoes.
If you've got a party, you can easy double or triple the recipe. Keep in mind, though, it doesn't keep long- it'd be best if you prepare it the day you're going to use it.
So, what's on your mind, folks?