I just couldn't pass this up — the clip is too good to miss. This afternoon, in a segment headed, "YOUR FACTS ARE WRONG…AGAIN," CNN's Rick Sanchez tore Fixed News a new asshole, and it was a thing of beauty. It appears that Fox thought it would be a good idea to take out a full page color ad in the Washington Post, alleging that the other major media outlets (including CNN) failed to cover the (embarrassing, hysterical) 9/12 Tea Party protest in DC: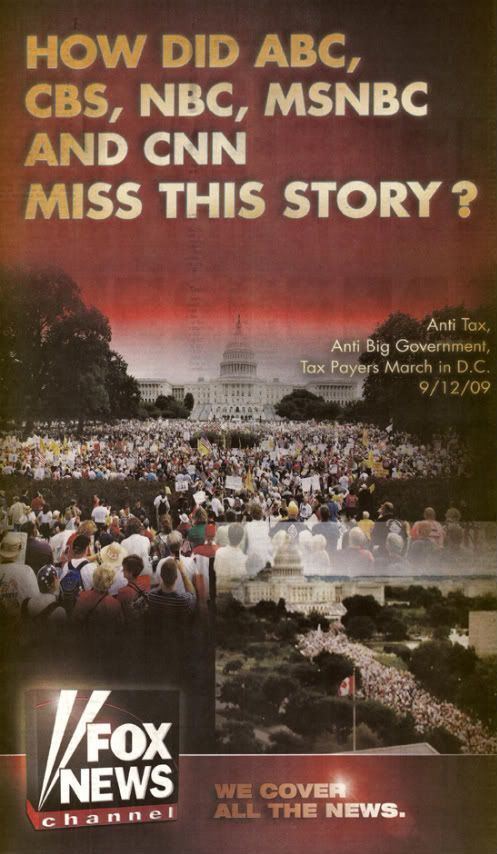 Now look, here's the hilarious thing about that ad above. You see the picture in the lower right hand corner? Yeah — that was an image taken from CNN's skycam and a scene that CNN aired repeatedly last Saturday. That's right. Let the overwhelming irony and hilarity of that soak in for a minute: They stole an image from CNN's coverage of the event to paste into an ad about how CNN and other "biased" news outlets didn't cover the event.
The problem with the ad is that the other networks indeed covered the protest, which — like similar demonstrations across the country — were heavily promoted by Fox, especially talk show host Glenn Beck.

The ad appeared Friday in the Wall Street Journal and New York Post, both owned by Fox's parent company, and in The Washington Post.

ABC spokesman Jeffrey Schneider described the ad as "outrageous and false." NBC spokeswoman Lauren Kapp said that "the facts . . . prove it wrong." CNN spokeswoman Edie Emery called the ad "blatantly false."

Fox News provided more coverage than other news outlets in the run-up to what Beck branded the "9/12" protests, but the other networks hardly ignored the story. ABC, for instance, covered it Saturday and Sunday on "Good Morning America" and Sunday on "World News," along with extensive reports by ABC Radio and the network's Web site. NBC covered it Saturday on "Nightly News" and the next morning on "Today." CBS covered it on the "Evening News." CNN covered the Saturday protests during the 10 a.m., 11 a.m., 5 p.m. and 7 p.m. hours, as well as on other programs afterward. Correspondents such as NBC's Tom Costello, ABC's Kate Snow and CBS's Nancy Cordes were involved in the coverage.

Fox's view is that the ad refers to the other networks' missing the larger story, not failing to cover the demonstration itself — although the photos suggest that the headline refers to the protest. "Generally speaking," Michael Tammero, Fox News's vice president of marketing, said in a statement, "it's fair to say that from the tea party movement . . . to ACORN . . . to the march on 9/12, the networks either ignored the story, marginalized it or misrepresented the significance of it altogether."
As for CNN's coverage,
CNN was there as well, their Radio correspondent even got up close with the crowds. CNN also tells us deputy political director Paul Steinhauser was live at Freedom Plaza, CNN correspondent Kate Bolduan was live from the West Front of the Capitol, CNN All Platform Journalist Jim Spellman provided live hits all day after traveling for weeks on the actual Tea Party Express and filing reports for CNN and CNN.com along the way. "We had camera crews at various additional locations: shooting live video of the marchers, live video of the rally speakers, live video from the CNN Express, and two robotic cameras were in spots around the city capturing the magnitude of the event," CNN tells us.
And when it came to Fox's blatant, shameless lie, Sanchez was having none of it.
"Enough is enough," Sanchez went on, sounding as though he had been taking lessons in righteous indignation from Keith Olbermann. "And yes, I'm talking to you, Fox News. You, who claim to be fair and balanced. At what, I wonder? … They are saying we did not cover this story. They are using a lie to try and divide people into camps. … That's an offense to myself and my colleagues, who risked their lives in Iran and Afghanistan and around the world to bring the news."

Sanchez then backed up his charges against Fox with clips of several different CNN reporters covering various aspects of the rally and even played a clip of Fox's Bill O'Reilly saying smugly, "CNN, as we mentioned, covered the anti-Obama protests, of course."
Check out Sanchez's thorough excoriation of Faux Entertainment Channel in all its fiery goodness:
His finest moment came toward the end of the clip, when he encouraged Fox to look into the distinction between "covering" an event and "promoting" it:
Here's the fact, we did cover the event. What we didn't do is promote the event. Just like when thousands marched on Washington to protest the war on Iraq, we covered it as well — probably less than we covered this event — but we didn't promote it. Bottom line is, we do cover the news, and we did extensively cover this event. We didn't promote the event. That's not what real news organizations are supposed to do. We covered the event. I would invite you to look into that distinction between those two words: "promote" and "cover". Cover is kind of like a fair and balanced way of doing things. You get it? You might want to look into that. It's about letting Americans make up their own minds.

Let me cut to the chase. When thousands of Americans showed up at the nation's capitol to protest big government, we covered it — with four correspondents, two satellite trucks, multiple live interviews, lawmakers on the record, and conversations with attendees. By the way, I put a call into Fox News for a comment, and we expect an apology. But we're still waiting.

Let me address the Fox News network now, perhaps the most current way that I can, by quoting somebody who recently used a very pithy phrase. Two words, that's all I need: "You lie."
It should be noted that this is not the first time Sanchez has called out the Fox "News" organization for their bullshit. He has gone after O'Reilly, the Fox crew for carrying the McCain volunteer mutilation hoax, and the Glenn Beck gun hysteric types. He has also gone so far as to say that Hispanics who work on Fox are sell-outs.
The man actually had sricki clapping today. Good on him for calling Fox out for what they are: Liars. If anyone has a free moment, you might pop over to his blog on CNN.com and leave him some love.