Secretary of State Hillary Clinton and former President Bill Clinton both played instrumental roles in the release of two captive American journalists who were stopped and detained by North Korean soldiers on March 17, 2009, after purportedly illegally crossing the nation's borders. Journalists Laura Ling and Euna Lee were convicted of "committing hostilities against the Korean nation and illegal entry," and sentenced in June to 12 years hard labor in a North Korean prison camp.
Ms. Ling and Ms. Lee were on a reporting assignment from Current TV, a San Francisco-based media company co-founded by Al Gore, the former vice president, when they were detained by the soldiers. The reporters were working on a report about North Korean refugees – women and children – who had fled their homeland in hopes of finding food in China.

The circumstances surrounding their capture remain unclear.

Analysts said they were a pawn in a rapidly deteriorating confrontation between the United States and North Korea – a potential bargaining chip for the Pyongyang regime and a handicap for Washington in its efforts to pressure the government over its recent missile and nuclear tests.

The sentence to North Korea's infamous prison camps came despite repeated appeals for clemency from the journalists' families.
Secretary of State Clinton initially called the charges "baseless" and suggested a number of potential envoys to North Korea, including former Vice President Al Gore. President Clinton was ultimately chosen for the mission.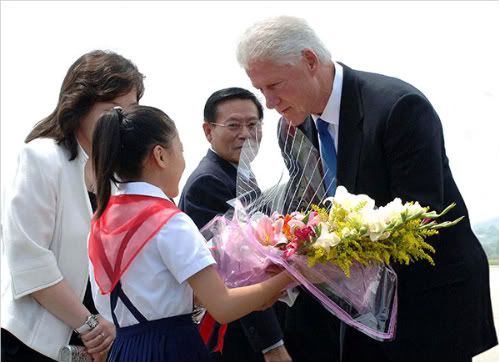 The trip came just two weeks after North Korea issued a harsh personal attack on Mrs. Clinton, in response to comments she made comparing its nuclear test and missile launchings to the behavior of an attention-seeking teenager.

The North Korean Foreign Ministry objected to her "vulgar remarks" and called her "a funny lady" who was neither intelligent nor diplomatic. "Sometimes she looks like a primary-school girl and sometimes a pensioner going shopping," a spokesman said.

The episode evidently did not stop consideration of sending her husband as an envoy. But the initiative was cloaked in secrecy and came after weeks of back-channel talks between the United States and North Korea through its United Nations mission. In addition to Mr. Gore, the White House's list of potential candidates included Gov. Bill Richardson of New Mexico.

North Korea signaled its desire to have Mr. Clinton act as a special envoy in conversations with Ms. Ling and Ms. Lee, who relayed that message to their families in the middle of July, according to a senior administration official. The message was passed to Mr. Gore, who contacted the White House, which then explored whether such a mission would be successful.

Mr. Obama did not speak directly with Mr. Clinton before the mission. But his national security adviser, Gen. James L. Jones, contacted the former president to sound him out. The senior official said the administration did "due diligence" with the North Koreans to ensure that if Mr. Clinton went, he would return with the journalists. He also denied that Mr. Clinton apologized as a condition of obtaining the pardons from the government.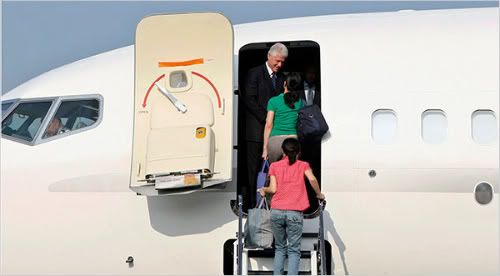 Clinton's visit to Pyongyang appears to have been the most well publicized in nearly a decade, due in part to George W. Bush's decision to halt direct talks with North Korea. Despite Clinton's insistence that the trip was focused solely on ensuring the release of the two journalists, others have speculated that it is highly unlikely that issues of a more sensitive nature were ignored.
Given Mr. Clinton's stature and his long interest in the North Korean nuclear issue, experts said it was likely that his discussions in North Korea ranged well beyond obtaining the release of Ms. Ling and Ms. Lee.

"It would be someplace between surprising and shocking if there wasn't some substantive discussion between the former president, who is deeply knowledgeable about the nuclear issue, and Kim Jong-il," said Robert L. Gallucci, who negotiated with North Korea in the Clinton administration.
Thanks to Mr. Clinton's efforts, Ling and Lee have returned home and appear to be in good health. They departed with Clinton from Pyongyang Wednesday morning. This has undoubtedly been a traumatic experience for the two young women, and I'm sure they are infinitely grateful for Mr. Clinton's aid in returning them to their families.
Laura Ling and Euna Lee were pardoned after former US President Bill Clinton visited Pyongyang.

[. . .]

US President Barack Obama praised Mr Clinton's "extraordinary humanitarian effort" and said he hoped the reunited families would enjoy the coming days.

"The reunion we've all seen on television, I think, is a source of happiness not only for the families but also for the entire country," Mr Obama added.